When 2A! was in production with KidzChores.com, a website dedicated to making chores fun and rewarding for kids, we had to design all the elements that would be used in the site. In my last post about Kidz Chores, I shared our design work of the little girl avatar. Today, I'll share some of the background scenes we created for the avatars to visit.

This project called for a fun, cartoon style which I think we totally nailed with this first background. Mixing bright colors with rounded edges on the furniture really helped the overall feel. Plus, who wouldn't want to have a cool bedroom dedicated to outer space!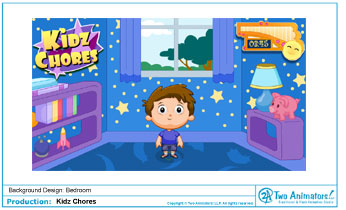 Next up, is the driveway background, complete with cute chalk drawings on the driveway.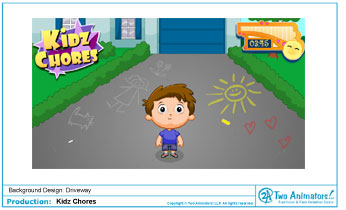 Here we have the family room. I went with more reds here because it made the scene feel nice and cozy. I wouldn't mind relaxing here and watching my favorite movies on that wide screen TV. ;)




Last but not least, we have the backyard, which looks like a good place to cook some food and have some fun.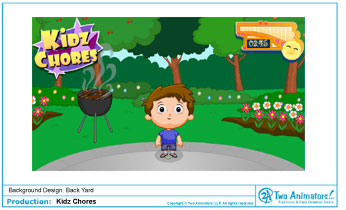 Well, that's it for now… If you'd like to see more of our Kidz Chores backgrounds, just head over to Kidzchores.com and check them out!
Copyright © Kidz Chores, Inc.