With this week's post, I'm bringing you another installment of SweetIM animation show and tell.

I think we all know the drill by now, but above and below you'll find a video and stills showing a SweetIM animation from animatic to final animation. This week's animation is of Doctor Frankenstein and his monster. When coming up with ideas for the Halloween SweetIM animations, I really wanted to push interactivity with the user. I thought it was a really fun idea to have the Doc steal the user's brain. It was tricky to pull it off, but I think it works well. What do you think?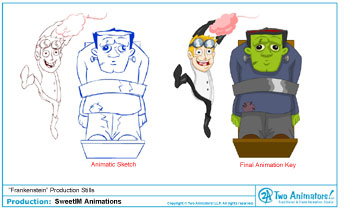 Copyright © SweetIM Technologies Ltd.