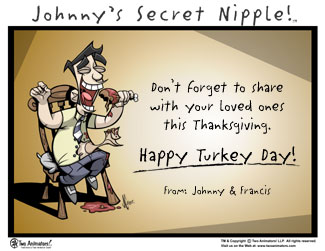 2A!'s been hard at work on a new Johnny's Secret Nipple! graphic novel -- which we can't wait to share with you -- but for now we thought it would be cool to revisit some of our existing JSN art. So here's a Thanksgiving greeting I drew back in 2002, which seems like the perfect place to start given that tomorrow is Thanksgiving!

Have a Happy Turkey Day!!

Watch Johnny on YouTube.
Fan Johnny on Facebook.
Visit Johnny's Website.
Copyright © Two Animators! LLP