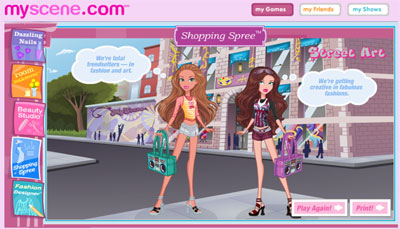 2A! recently worked on some updates for Mattel's MyScene Shopping Spree game. In the game, you get to go shopping with Barbie and her friends, and choose all new outfits and accessories for the girls to wear. So, Mattel asked us to create some stylish new clothes and a new background area for the girls to strut their stuff in. This week I'll talk about the background...

Below you can see my initial concept sketch. Mattel wanted a hip, SoHo-type art school, which has a wall filled with graffiti in front of it.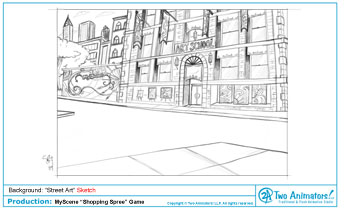 Next up is the color mock. I tried to use cooler, muted colors to fit the urban theme, while giving the area a more laid back feel. I think the overall effect is very welcoming… a place I'd want to hang out at.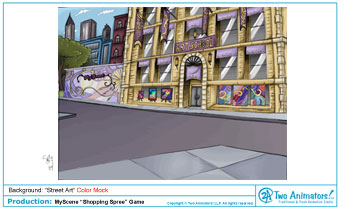 Here's a look at the final background art, done in Flash by Greg Kleid. The final is pretty close to my color mock, but they did ask us to change the building from yellow to a purplish color so Barbie's blonde hair would "pop" easily.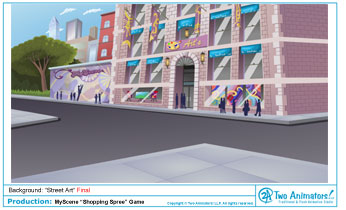 Along with the hip new background for the girls to chill in, we also created all new clothing (based on the toy line) for the game too! I'll post about those soon, so keep checking back. Now, why not head over to MyScene.com and try out the game for yourselves?
Copyright © Mattel