Inspired by Joe and Mark's posts with their designs on The Princess Bride 20th Anniversary DVD, I wanted to share the designs I came up with for that project.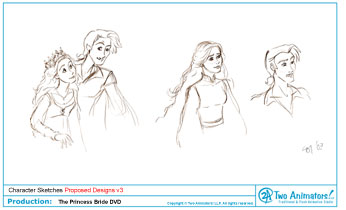 Caricatures are always a challenge for me, so it was fun to try my hand at it again. My style tends to be more realistic and Disney-like, which balances the more cartoony versions that Joe and Mark submitted. I like the romantic and suave essence these designs have.




Like the others we've shown, these weren't selected as the finals, but I still feel artistically they hold their own.
Copyright © Two Animators! LLP