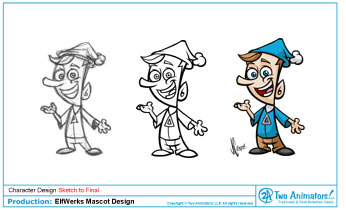 Here's another blast from our design past...

I created this little guy as the mascot for a client's website back in 2004 (at least I think it was '04 ;). Although it rarely happens, I pretty much nailed the character's look with my very first sketch. Then I tightened things up with ink & paints in Flash.

While his intended website is no longer around, our Elf can still be seen at www.williepop.com, alongside a few of our other character designs. Enjoy!
Copyright © Two Animators! LLP