When 2A! was asked to animate the Woodland Muse logo as an intro for the company's iPhone apps, we first had to design their mascot character. The client provided a rough concept of a fairy-type girl who magically creates, then sits on the "e" in the word muse. So with that, we got cracking on some designs.

Below is my initial pass on the character done in Sketchbook Pro.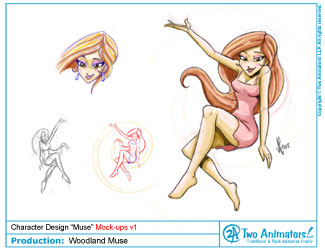 Next up, is Sarah's pass on the character. Sarah definitely brought her into the fairy world with the addition of the wings and pointy ears.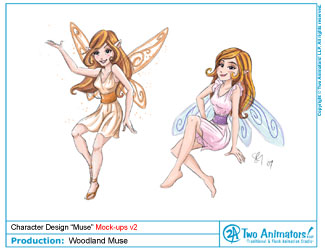 Lastly, we have the final character design below. While the look of the character was important, we also had to do some work to get the correct seated pose for her, which Sarah captured with her sketch (to the left) and I cleaned up with the final design (to the right).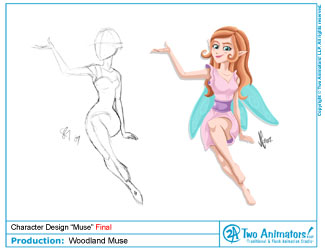 The final clean-up was a bit of a challenge to figure out, because there are no real outlines used. The character is mostly color fills with some darker shadows in areas to help body parts pop. It was definitely a fun change from my usual black-inked line work though. ;)

Be sure to check out the final animation to see this character in action!
Copyright © Woodland Muse