HEYOOOOOO! It's about that time for some more 2A! Sifaka World designs...

First up is Cam, owner and operator of Chameleon's Clothing Store, located in the beautiful Treetops of Sifaka Island. From sweet safari hats to warm winter jackets, Cam is the man to see for all of the current Sifaka styles. I had fun designing this guy, especially with his crazy color palette. ;)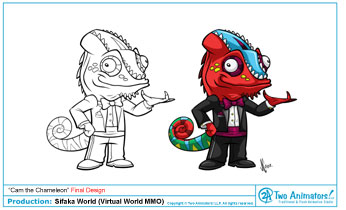 Next up is Cam's sister, Liz, who operates Chameleon's Furniture Store, which is accessible via the clothing store. She's the lizard to see about sprucing up your pad (a.k.a. user home) with all the coolest in Sifaka furniture. I'm saving up for that wide-screen plasma TV! As you can see, Liz's look is based off of Cam's design. Sarah did a great job altering the design and choosing nice, cool colors to make her really stand apart. Final ink and paints on Liz were done by Tom C!




Now get your tail over to www.sifakaworld.com and buy something from these cool chameleons. You can also check out more

Sifka World

designs by following the links below.

Sifaka World Mascot
Sifaka World Mascot Part II
Ring Tailed Lemur
Sifaka World Albatross
Tui the Tortoise
Copyright © Sifaka Productions, LLC