2A!'s Happy Halloween short rises from the depths to gain new life on YouTube!

We created this promotional short a few years ago and sent it out as a Halloween greeting to our clients and colleagues, and to help spread the word about the studio. At the time it was featured on Cold Hard Flash and has since rested comfortably on our YouTube channel. But over the past week the video has been resurrected, jumping from around 900 views to over 31,000 and climbing! Needless to say, we figured it definitely deserved another look. ;)

I'm still really happy with how this piece (which pokes fun at the nightmare of working with a low production budget) turned out. Especially given that it was a very spontaneous idea that I came up with and the team quickly cranked out. Not to mention Joe and I got to do the voices of Igor and Dracula! :P

So be sure to check out the video above and let us know what you think. I've also included the original character sheets for Dracula and Igor below. The whole 2A! gang loves Halloween and had a blast working on this, so we hope you like it too!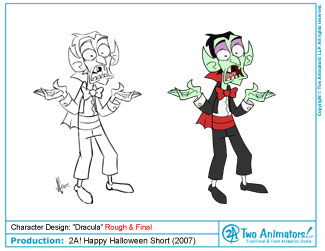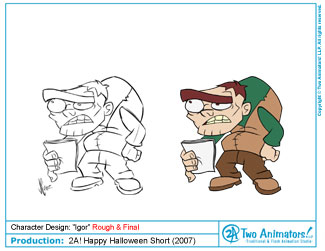 Copyright © Two Animators! LLP