Since Halloween is our all-time favorite holiday, Tom and I are always doodling Halloween characters and decided one year that it would be fun to turn them into a series of animated GIFS. So, here are some of the designs we created for that batch of FREE Halloween GIFS released back in 2005.

First up are my designs, including a witch, a zombie, two ghosts, Frankenstein, Dracula, and a cranky demon.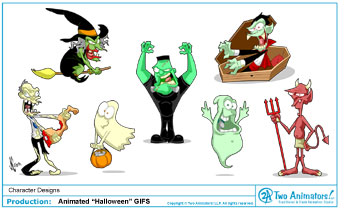 Next up are Tom's designs, which include a goofy bat, a creepy snake living in a skull, a howling wolf, and a scarecrow with a pumpkin's head.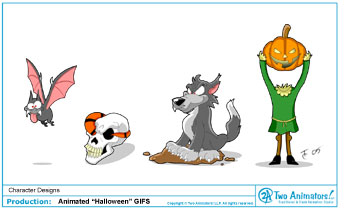 If you like these designs, then be sure to check out the animated versions on our Fun & Games page. Just click on the "Freebies" game in the Flash movie at the top of the page. Or you can just download them HERE. Did we mention they're FREE! ;)
Copyright © Two Animators! LLP