Last week I wrote a post about the backgrounds 2A! designed for Bonzai & Ned's Anthill Adventure Game over at Sifaka World. So, today I thought I'd talk more about the individual assets we designed for the game.

First, we focused on the main characters, Bonzai & Ned. As you can see from the image below, we had to change the angle of the original design (on the left) to accommodate the aerial view of the game board. We also needed to turn the characters around so they would have the correct perspective depending on the direction they were moving (up, down, left, right).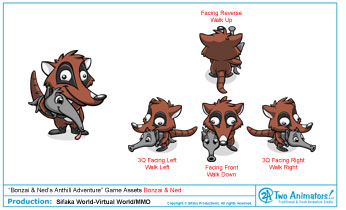 Next, the enemies in this game were three different ants that interacted with Bonzai & Ned. Each one had a special purpose, and even though color would be the main way to tell them apart, I still wanted to change the features so their silhouettes were distinguishable. So I played around with giving them different sized abdomens and mandibles. The ants also had to be drawn in several angles for game play.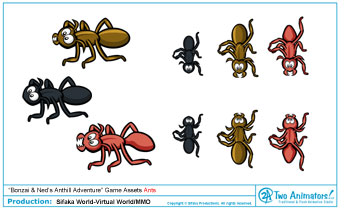 In addition, the ants needed a few special poses. One was a "flying" pose for the brown ants that Bonzai & Ned suck up and shoot out like bullets. Another was a "hit" pose for the red ant, where it falls over dead after you shoot it. I was pleased with how the dead ant turned out as it gets the point of death across without coming off as gross or scary. The very cartoony "X" eyes help with that. ;)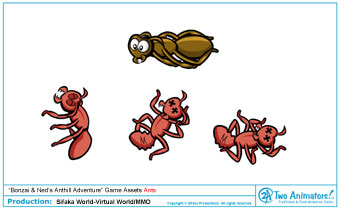 2A! also created environmental assets and power-ups for the game. We created rock walls and ponds so each level could be changed to increase the difficulty. As for the power-ups, a prickly pear worked nicely for an invincibility icon and a clock for slow motion. Their bright colors really help them "pop" from the background, which players can see easily while playing.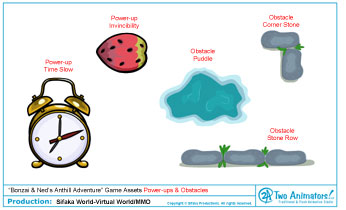 Last but not least, every game needs to be rounded out with UI (User Interface) and various screens like: an intro screen, instructions screen, and an end score screen. We created each of these to fit with the style of the background and came out with what I feel to be really fun results.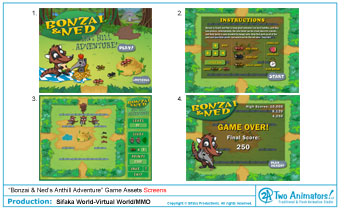 Bonzai & Ned is one of my favorite games at www.sifakaworld.com, so why not head over and give it a shot!
Copyright © Sifaka Productions, LLC