I can hardly believe it's the middle of October already! I love this time of year, especially now since this is when the leaves are usually at their peak color, apples and pumpkins are ripe for picking, cider is just waiting to be consumed, and it's chilly enough to break out my giant collection of scarves.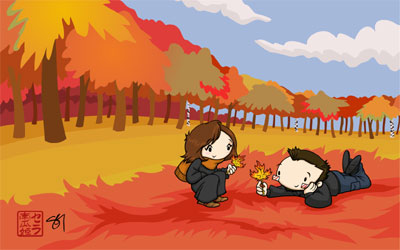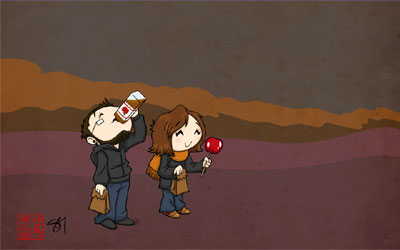 These are two wallpapers I drew to celebrate this wonderful season. In the same style of the "Looking Forward To Fall" wallpaper I made last month, the caricatures of myself and my boyfriend partake in some of our favorite fall activities. There's trails to hike, leaves waiting to be admired and seasonal foods to be eaten.

I'm quite proud of how the characters and the colors in these came out. I really like how I made the extremely stylized chibi-pumpkin-head characters expressive and work from a few different angles (the drinking pose I'm especially fond of). I am also very happy with how the night time fall colors worked out, as it feels dark and autumn-ish while giving a mood of Halloween.
Copyright © Sarah Gencarelli