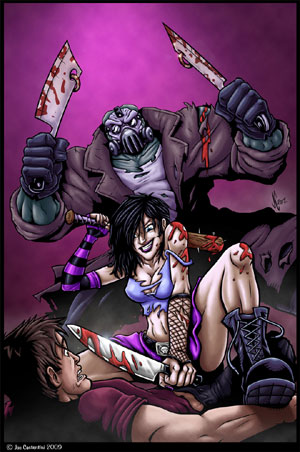 In honor of Halloween and all things scary, I present an original shot of Cassie and Vlad from Tim Seeley's Hack/Slash comic book!

I recently got into reading this book and love the series. It's about a girl named Cassie who survives a "slasher" attack and subsequently vows to rid the world of all slashers! She picks up a sidekick named Vlad -- who looks a lot like a slasher himself -- and travels the country taking down murderous monsters. Great stuff and a really fun read!

Anyway, I'm pretty psyched with how the paint job on this turned out. Especially given that it's my second attempt at doing more painterly colors (see my first attempt here).

The guy in the pic is just some random dude... not a super villain slasher. I was also thinking about titling this "Dream Date," because I imagine this is how a date with Cassie might end. ;)

Here's the black and white image too…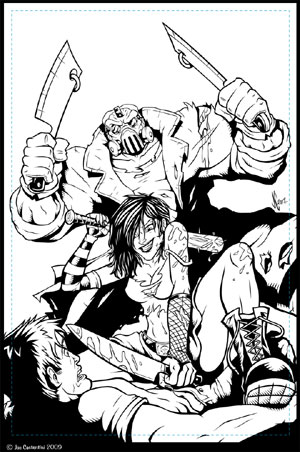 Hope you like them!
Illustration © Joe Costantini
Hack/Slash is Copyright © Tim Seeley.