Last but not least, we have the final character design 2A! created for the 1800pools.com commercial spot.

When we started production, we were presented with a rough concept for the story's progression. The client wanted to have a dog that would scare Crazy Legs into the pristine pool (that we all wished was in our own backyards) with his super barks. So I first started by playing with different breeds of dogs since they didn't specify as to one they preferred.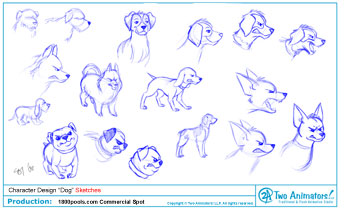 We were all immediately drawn to the funny looking pug dog, so I did a cleaner sketch and color mock-up to make sure he fit into the style of the commercial.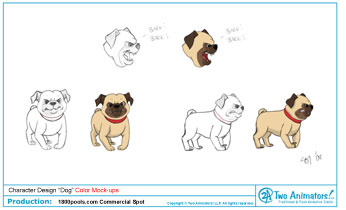 From there we moved directly into the animation where final ink and paints were made for the keys. It was fun playing with the movement and expressions of the dog so close to the design phase, as the idea was still very fresh in my mind.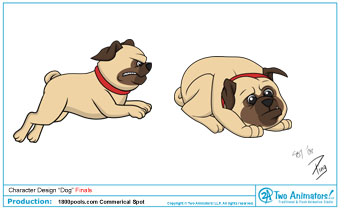 Also, be sure to check out our designs for Crazy Legs and his Bullfrog buddy!
Copyright © 1 800 Pools, LLC.