Seeing Joe's More Kremlin Cats post last week reminded me that I had a few character design sketches of my own to show. I drew these along with the costume concepts I posted about earlier. Both were so much fun to work on, especially at the same time as it got so many cool ideas flowing in my head.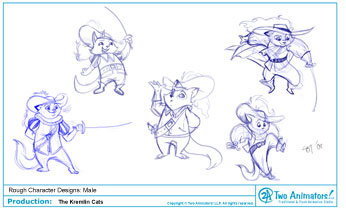 At first I played around with styles that I felt would fit the characters. I was immediately drawn to the idea of

Puss 'n Boots

, who is a heroic and cavalier type that I saw many parallels to with

The Kremlin Cats

. I felt that the silhouette of the characters would play a big role in telling all the cats apart, so naturally I tried to find as many different body shapes and sizes.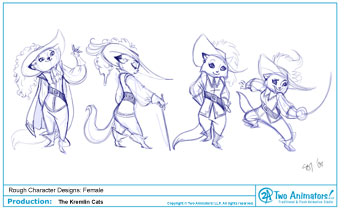 I had the most fun playing with Chelsie, the only female cat. I wanted to keep her feminine curves while making her seem like a cool tom boy.

You can also check out the final designs here!
Copyright © Two Animators! LLP