2A! was recently asked to help redesign some of Debby Carman's characters... more specifically the feline characters from her book titled, The Nutcracker Cats of the Kremlin.

Our main goal was to take her colorful, child-friendly style and age it up a bit for a slightly older audience. We also wanted to unify the costumes, making for a more cohesive team, while also pushing the cartoony fun of the character's themselves. Below are my color-mocks of the five main characters: Manny, Chelsie, Rikki, Sox, and Nikki.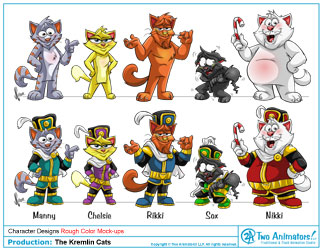 As you can see, I first focused on nailing down the individual character personalities and looks. Once that was done I could move onto designing the costumes, which I turned to Sarah for help with. Once costumes were designed, I then started rotating the characters. I did this in the same way, where I turned the characters around first, then went back and overlaid their costumes afterwards.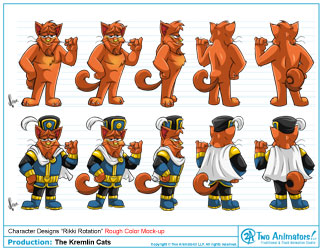 After all the design work was done with the characters we could have some fun playing around with possible scenes. The rough layout and background paints for this shot were done by Sarah, while the colored character art was done by me.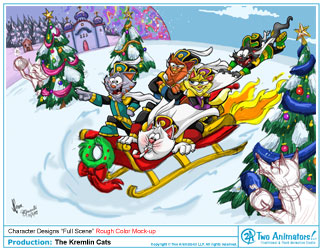 Be sure to check back tomorrow to see some of Sarah's costume design sketches! Plus, I have more Kremlin Cats development sketches to post in the near future too.
Copyright © Two Animators! LLP