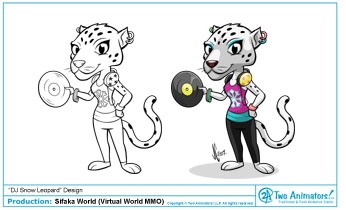 Here comes another cool character design 2A! created for

Sifaka World

.

This time I present Sifaka's resident party animal, the DJ Snow Leopard! This cat can be found spinning the techno tunes over at Kintana's Clubhouse, located in the beautiful Treetop Village area of Sifaka Island.

You can pay her a visit and groove to the funky beats at www.sifakaworld.com.
Copyright © Sifaka Productions, LLC