2A! is feeling retro this week, as we're looking back on some old favorites like our background work on The Superficial Friends. Today, we take a peek at another series we worked on titled, Behind the Music that Sucks!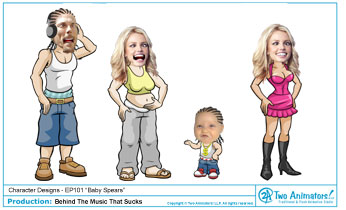 The first episode spoofed Britney Spears and her crazy family situation, so we tried to make the most comedic puppets for Britney, Kevin Federline, and Baby Spears. This show had a very unique style, as we used cut out photos for heads and drew the bodies in Flash. We had to alter the photos before using them, but it was fun to accentuate them with wacky eyes and crazy smiles, as well as adding drawn elements like Baby Spear's cornrows.

2A! animated the 2006 season of this show, which consisted of 39 episodes. You can watch them over at Heavy.com and on YouTube. The show also airs on Comcast On Demand.
Copyright © Heavy.com