Last but not least, 2A! finishes up our

KidzChores

fashion show with the dad avatar. We used the same inspiration as the rest of the family while trying to design the dad's styles. This was a little challenging though, as we wanted some of the outfits for the dad to look more dorky than others, yet still have a cool male vibe to them.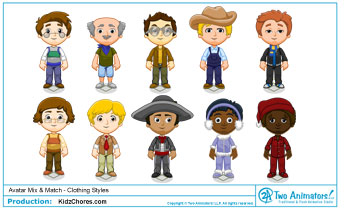 Go ahead and check out KidzChores.com and see what your family looks like with each of the avatars. I'm sure you'll be pleased with the results!
Copyright © Kidz Chores, Inc.