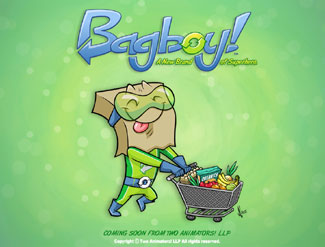 2A! will be attending the 2010 KidScreen Summit next week, from February 10th to the 12th in New York City!

The

KidScreen Summit

has become one of the world's leading conferences on "the business of kid's entertainment," hosting over 1,400 attendees from around the world. Top decision-makers, marketers, and creative alike attend to network and share new ideas to drive their businesses forward.

In addition to promoting our animation services, 2A! will also be pitching our new "green-themed" animation property called, Bagboy! Anyone attending the summit who would like to meet up can drop us a line. We look forward to seeing everyone at the show!
"KidScreen Logo" Copyright © Brunico Communications Ltd.
"Bagboy" Copyright © Two Animators! LLP