It feels like 2A! has gone a bit fashion crazy with all the costume designs we've been doing lately. Why stop now though? Today I present the outfits we designed for the

KidzChores

boy avatars!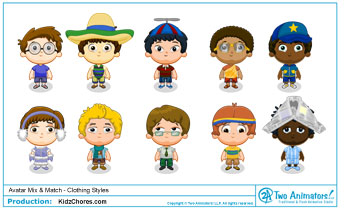 Again, the boy's wardrobe follows closely in the footsteps of the little girl and mom avatars. I tried to make a nice blend of ethnic and every day clothing that kids on the site can have fun customizing. Also, with the boy I tried less fanciful clothing styles to try and make him feel a little cooler.

Why not try making your own avatar at KidzChores.com? With so many options, you're sure to have a good time!
Copyright © Kidz Chores, Inc.