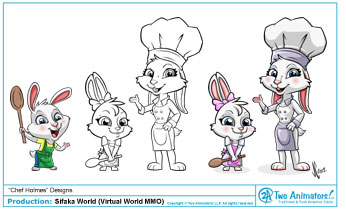 It's about time for some more

Sifaka World

character designs!

These cute Arctic hares are the online personas of Chef Holmes and her daughter. Chef Holmes is a real-world chef and author who recently teamed up with

Sifaka World

to help teach kids all about cooking. I also threw in a color mock-up of another child bunny (far left) that I think is totally adorable. ;)

Head over to the Sifaka World blog to learn more about Chef Holmes and read her posts. Also, be sure to keep an eye out for her in Sifaka World, where she'll be hosting all sorts of fun cooking games and other activities.
Copyright © Sifaka Productions, LLC