It's always interesting when putting these pieces together how just a voice can completely change the feel of a character. This is a SweetIM animation of Cupid that we did for Valentine's Day. When I think of Cupid, I think of him as kind of a man trapped inside a child's body, so I liked an older, more suave voice to contrast the cute cherub design. Ultimately it was decided to go with a more youthful, innocent voice to compliment the look. They both work, but give the same animation a completely different feel. You can check out both versions in the video above, as well as the progression from animatic to final animation.

Happy Valentines Day!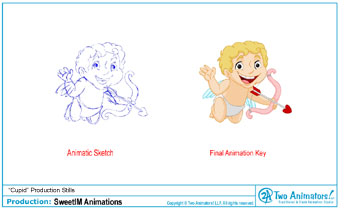 Copyright © SweetIM Technologies Ltd.