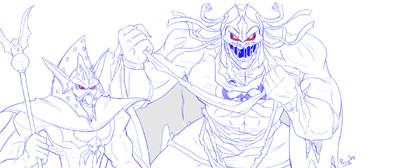 Here's round two of my 80's villain mash-up. This time

The Thundercats

demonic arch-rival "Mumm-ra the Ever-living" decides to join the party. This guy used to seriously creep me out when I was younger. Even so, I still thought he was the coolest character on the show!

Make sure to check back for the next addition. Here's a hint: Though I desperately try to forget it, his cartoon incarnation was voiced by none other than Uncle Phil from the

Fresh Prince of Bel-Air

.
Illustration © Mark Pingitore