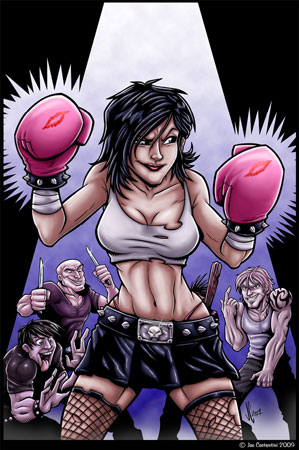 Here's another fun Hack/Slash image I drew towards the end of last year. Those of you who follow me on Deviant Art may have already seen this, but I thought it would be cool to post it here as well. This was a request from another DA member... he wanted to see Cassie wearing a pair of magical boxing gloves. A little quirky, but "what the heck" I thought... sounded like fun. ;)

I've also included a shot of the main steps in my process below. From left to right... First, I scribbled a few quick thumbnail sketches on a piece of paper. The one you see in the image is the direction I chose to go in. Second, I scanned and imported my thumbnail into Flash, and did a tighter sketch using the brush tool. Next, I made some minor tweaks to things in Flash – like shrinking her head to make it less cartoony – then went ahead and starting inking. Again, I ink in Flash with the brush tool. I tend to ink straight from my roughs, adding details and making changes as I go (as opposed to cleaning up the sketch first). Finally, I exported the inks from Flash and brought them into Photoshop to add the colors.

Hope you like it!

Illustration © Joe Costantini
Hack/Slash is Copyright © Tim Seeley.