It's time to get funky with some logo design today!

As an animation studio we have to demonstrate our skills and styles through demo reels. Over on our Demo Reels page we have our reels posted for everyone to watch, and we wanted a more fun way to present them. We based our reels on a few different music styles, so we created this logo to demonstrate how one reel is particularly funky.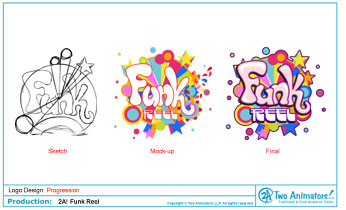 As with all designs, we worked starting from a sketch. The font and color were really important for this logo to evoke that crazy 70's style, so I blocked those out before we took things to the final stage. I'm really proud of how this logo turned out, it's colorful and fun.

Be sure to feel the funk by watching our Funk Reel here!
Copyright © Two Animators! LLP