I play a drawing game with my boyfriend when we're at a restaurant. When we have a white place mat, he makes sure to scribble a line or shape on on it that I have to figure out how to turn into a drawing. That is how this adorable dinosaur/dragon character came to be:




I liked the drawing so much I later took it into Flash and cleaned it up with color.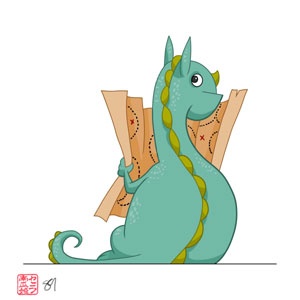 I'm not sure why the fella is looking at a map or why he's looking at us over his shoulder, but the expression and pose is so cute to me!
Copyright © Sarah Gencarelli