When 2A! worked on the Auxilium animated spots, the client asked us to match a specific style and provided sketches for the two main characters. This meant we had to build the characters in Flash, closely matching the provided sketches, and mimic the look for additional characters and clothing designs! This week I thought we'd take a look at the Flash artwork and clothing designs of the two main characters.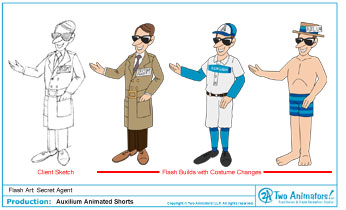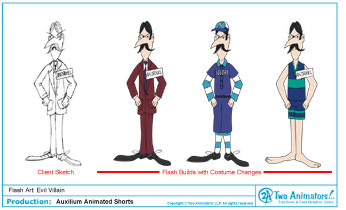 The first short had our hero and villain face off in their normal spy outfits, while the second and third shorts required us to create new costumes. We wanted the look of old-fashioned swimsuits and baseball uniforms to match the classic cartoon design, and it was super fun to research and design a look for each. I especially love the baseball uniforms, as they're iconic and old-fashioned.

Check in next week to see some of our original character designs for these fun animated shorts!
Copyright © Auxilium