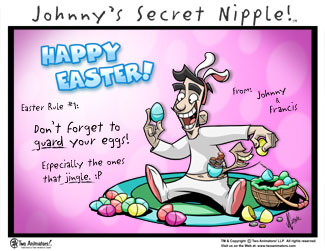 Well, the Easter holiday is this weekend, so we thought it would be fun to break out another Johnny's Secret Nipple! greeting. I originally drew this a few years back, but recently updated the joke and image. So it's a little old and a little new. ;)

Anyway, we wish everyone a happy holiday weekend!

Watch Johnny on YouTube.
Fan Johnny on Facebook.
Visit Johnny's Website.
Copyright © Two Animators! LLP