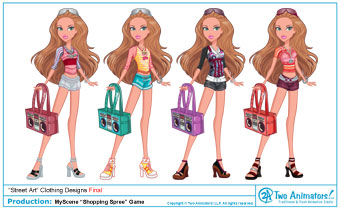 A few weeks ago I posted our background design for Mattel's

MyScene Shopping Spree

game. This week I wanted to share some of the clothing we created for

Barbie

and the gals to wear.

The clothing was all based on the "street art" line of

MyScene

dolls, so that meant researching all the different toy outfits and accessories to accurately recreate them. From there it was just matching the beautifully rendered style of the illustrated girls. I used Nia as the model and feel that all of the clothing turned out pretty darn stylish.

Curious as to how the other

MyScene

girls look in their hip new outfits? Check them out at MyScene.com!
Copyright © Mattel