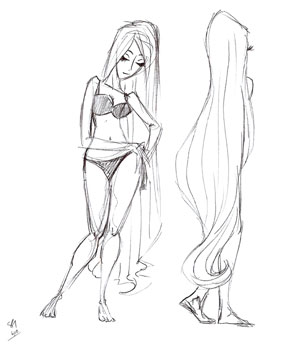 Summer is here! And what better way to celebrate than by donning a bathing suit and going for a swim? Since I'm not a big beach goer myself, it's much more fun for me to draw those who prefer to soak up the sun and sand.

Enter this sketch, which was a doodle that turned out better than I had expected. This impossibly long-haired beach girl is making sure her suit is in top form. Her style is loosely based on the style of Leiji Matsumoto, a favorite artist of mine.

Have a great weekend and enjoy the summer!
Copyright © Sarah Gencarelli