Mark brought up a good point today... Did you ever notice how Yorkshire Terriers kind of look like Ewoks? Well, they do! I didn't realize it before, but after sketching them today I found it easy to end up with something resembling an Ewok. Anyway, this week's Monday Morning Motivator's theme was chosen by Nataliya Platonava over on our Facebook page. Thanks again for the adorable suggestion!

It looks like we're coming to the end of our alphabet exercise with next week's theme... anything starting with the letter "Z." So anyone who hasn't made a suggestion yet should drop us a line here or on our Facebook page. Become a fan, suggest a theme, and if we dig it we'll draw it.

For those that don't know… MMMs is our weekly exercise where we pick a theme and spend the first hour of each week sketching. The sketches can be loose or tight, but the point is to work out the weekend stiffness and draw something new.

Now without further ado, we present... "Y" is for Yorkies!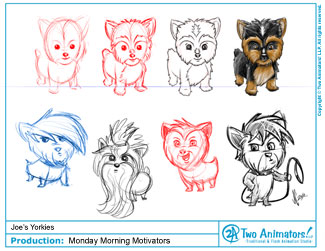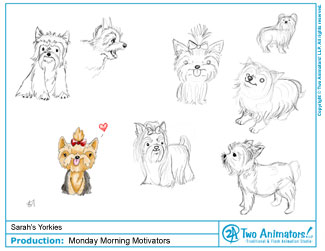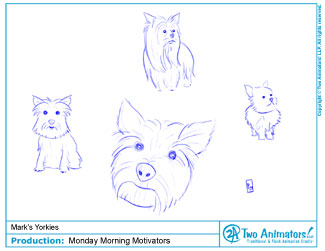 Copyright © Two Animators! LLP