Is it a blast from from the past or a visit to the future? Either way, a little over a year ago we posted about our work on the Tier Drop! animated teaser. I was put in charge of painting the backgrounds for this production, so I thought I'd share some of my work.

First up, is the "Future Alleyway!" Seeing as our main character really only travels "two days" into the future, I just needed to reference some current alleys. ;) So I went with your standard dirty alley, which I found to be humorous since we expect the future, even if only two days into it, to be better, brighter and more wonderful.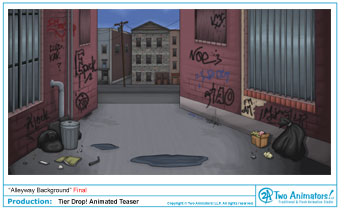 Next up are my layout lines, which I drew in Flash and filled with blocks of flat color. We sometimes do this to choose our colors, then we'll take this into Photoshop and paint the shadows and highlights, etc.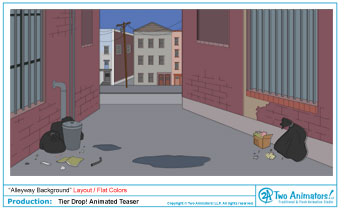 Last but not least, here is Mark's original animatic sketch. As you can see, he laid out the very basic shot and I had to actually define and embellish all the background details.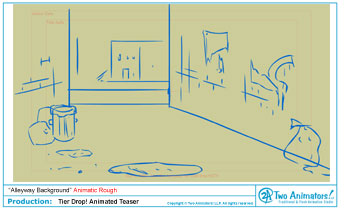 Copyright © Supplier-Works