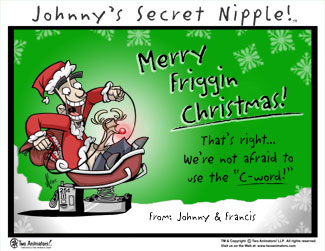 Since Christmas is next week, I thought it would be fun to share another Johnny's Secret Nipple! drawing I did a few years back. I updated the text to play off of the whole controversy between saying, "Merry Christmas" or "Happy Holidays!" I say who cares... say whatever you want. Don't we have more important things to worry about?

In any case, enjoy the drawing! Oh yeah, and Merry Christmas!

Watch Johnny on YouTube.
Fan Johnny on Facebook.
Visit Johnny's Website.
Copyright © Two Animators! LLP